Jamaica Destination Wedding
Celebrate Your Day In Montego Bay Surrounded by Elegance & Romance
Hosting only one wedding per weekend, Round Hill promises you and your guests' unparalleled service, undivided attention and ultimate exclusivity for your Jamaica destination wedding. With this commitment, each bride and groom are met with unmatched personalized service to make your entire stay nothing short of magical. From laid-back beach parties to elegant four-course dinners, our dedicated staff specializes in unforgettable weddings in one of the most beautiful settings in Jamaica.
Throughout our package selections, you'll notice thoughtfully-crafted touches from beginning to end – the use of fresh vegetables and herbs from our on-site Organic Garden in your dinner menu, custom décor options utilizing the beautiful tropical flora around property, professional photographer and videographer services to capture every moment, and a seasoned wedding coordinator to ensure every detail is flawless.
Elegant Weddings
Offering customized menus to highlight your personal tastes and preferences as well as a wide selection in our event menus – we help define your vision and make it reality.
Frequently Asked Questions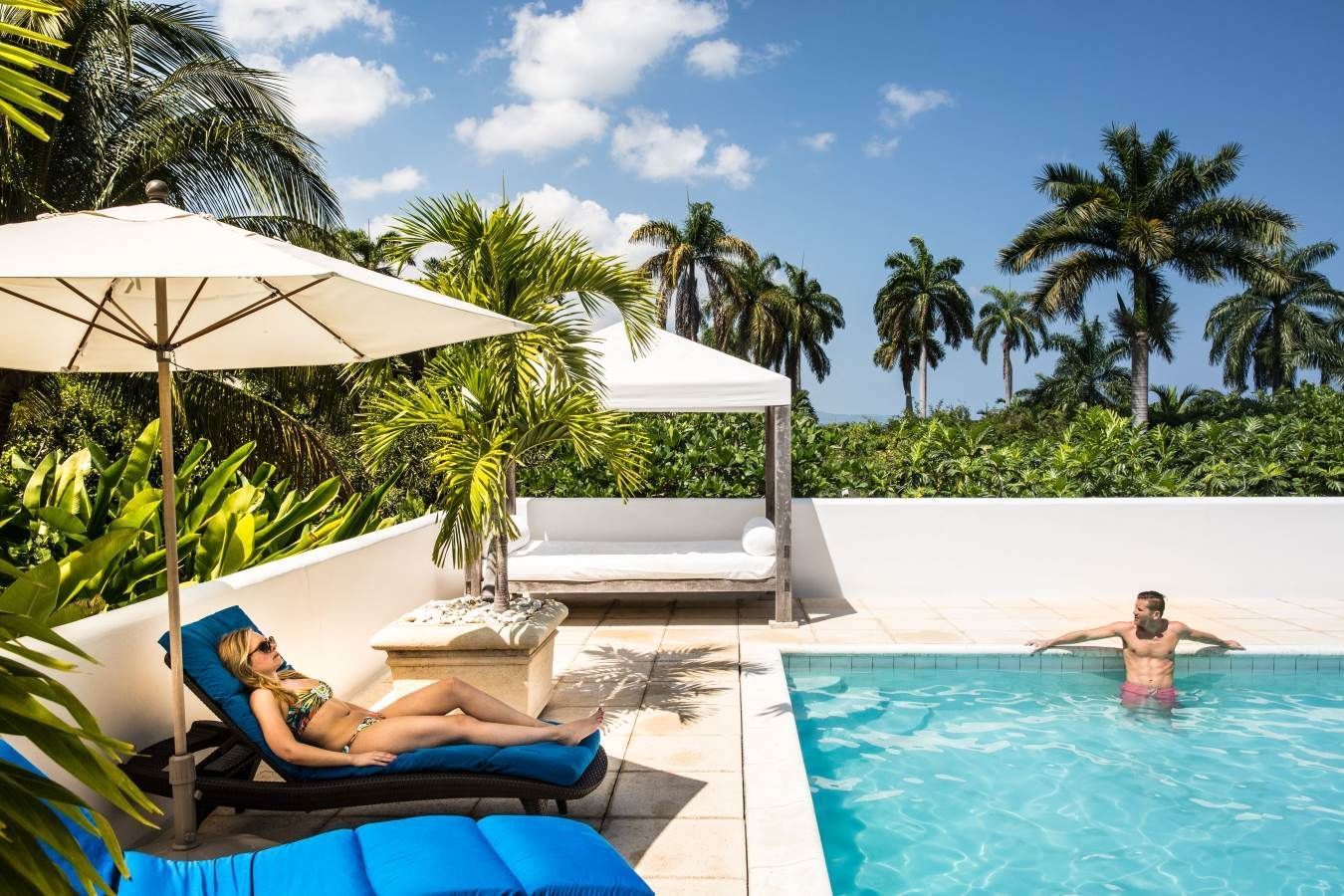 What information should I know before contacting Round Hill for planning my wedding?
To start the planning process of your destination wedding at Round Hill, you should know the estimated number of guests, your preferred date, and the budget for your events. Also, choose alternate dates in case your first choice is not available.
What is required by Jamaica for my wedding to be legal?
The bride and groom should be on the island for a minimum of 24 hours prior to the wedding ceremony. The required paperwork needed is as follows; copy of a government issued ID such as a passport or a driver's license, notarized copies of birth certificates, divorce decree or death certificate (if applicable).
When will I receive my marriage certificate?
Your marriage certificate will be prepared and sent approximately 2-3 weeks following your wedding ceremony.
How far in advance should I reserve the date?
You may need to book your dates at least a year in advance especially for the months of November, December, February and April.
What is the maximum capacity for guests at Round Hill?
Round Hill has 129 rooms/suites, that is, 36 Oceanfront Hotel rooms and 93 Villa Suites. We can accommodate a maximum of 250 guests for an event.
Are there special rates for my guests?
A group rate will be applicable should you book a minimum of 15 rooms for a minimum stay of 3 nights.
Do the bride and groom get a complimentary room?
The bride and groom will receive 3 nights' complimentary in a Villa Suite with a semiprivate pool with a minimum booking of 15 room booking and the guarantee that the wedding day events are held on property.
I want to have my wedding at an adult's only resort but I have guests that are children, can they attend?
Yes. We are a family resort and our Pineapple Kids Club and 7-Up Club offer fun-filled opportunities for children to be creative, active, adventurous and imaginative, all under the supervision of our well-trained caregivers. We have daily programs to ensure that each child has the opportunity to express their creativity and explore. Nanny services are also available.
What are the deposits and when are they due?
A nonrefundable deposit of US$5000 is required at the initial stage for the confirmation of your wedding at Round Hill. This amount will be applied to your final wedding expenses. Guests will be required to pay three (3) nights' deposits at the time of the booking of their accommodations. Estimated charges for your wedding expenses should be paid in full 30 days prior to the first event.
How do I confirm my wedding?
A contract will be drafted outlining your room requirements, your number of events, your choice of event space, the times of your events, the cutoff date, and due dates of deposits and payments. A non-refundable deposit of US$5000 is required to confirm your wedding at Round Hill, along with the signed copy of the contract.
What other fees should I be aware of?
ACCOMMODATIONS

10% government tax, 15% service charge and US$4.00 per room per night are applicable to all room rates.

FOOD & BEVERAGE

In the restaurant- 10% government tax and 18% service charge is applicable to all food and beverage costs.
Private events attract a 10% government tax and 20% service charge on all food and beverage costs.

EVENTS

All events attract a set-up fee for the use of the venue. Please review our banquet kit for more details.
What are the best times of the year to get married there? What are times to avoid?
The best time would be based on your schedule and availability. However, it good to note our high season is from December to April and our room rates would be more for your wedding guests. Our rates are lower during the period of May to November. We also have more rain during the months of May and October and the weather cools a bit for the period of November to March.
What is the best time of day to have a destination wedding?
Each resort has certain times for the ceremony. However, most of our couples request sunset weddings. The couple and planner will choose the ceremony start time depending on the scheduled sunset time. Some benefits of having a sunset wedding include: cooler temperatures, perfect lighting, facilitates the sunset private couple photos after the ceremony.
Do I need to hire a wedding coordinator for my destination wedding?
This is part of the service we provide. We will work with you to plan the event and travel arrangements for you and your guests. We will help you with everything from selecting your menus, the location for the ceremony, your flowers and anything else you can think of.
Should I do a site visit?
We highly suggest you visit your destination and venue. During your site visit, you may meet with vendors to discuss your event needs, schedule tastings, hair and make-up trials, and tours of venues.
Who will assist me with my wedding once I arrive?
Your assigned wedding planner will be present to assist once you check in and throughout the wedding weekend.
How do I get my wedding gown to the resort?
We do not suggest shipping your gown in advance as there is no way to assure it will make it to the resort. We suggest that you either carry your bridal gown on the plane or you ask your bridal shop to pack it for you in a carry-on or a box. Once you arrive at the resort you will meet with one of the wedding planners and they will work with you to unpack and steam the gown so it looks brand new.
What services will Round Hill provide for my wedding?
At Round Hill, we will assist with all planning aspects of your wedding celebration. This includes the booking of your guests' rooms, arranging transportation from the airport, your food and beverage requirements for your events, the booking of your vendors, organizing & scheduling your wedding events, floral and décor, photography, music, timelines, and on the day of coordination.
How many hours will my wedding last?
Typically, a wedding ceremony will last 30 minutes. However, the full celebration including the ceremony, cocktails and dinner and reception typically lasts for 6 hours.
Should we host a welcome party?
Hosting a welcome party is a great idea. A welcome party gives your guests the opportunity to meet each other and to kick start the weekend's events. The welcome party may be an informal cocktail before your guests go for dinner.
What are the different types of ceremonies I can choose from for my wedding?
The couple has the option of doing the following ceremonies: a non-denominational ceremony where the ceremony is religious but not ascribed to any particular Christian denomination i.e. Catholic, Baptist, and Methodist; a traditional Jewish ceremony is also possible and will be presided over by a Rabbi; traditional Anglican, Catholic and Methodist ceremonies are also possible. These ceremonies are most times done in a church. There are numerous churches close by the hotel for each of the stated denominations.
What locations at the resorts can I be married at?
Round Hill has a number of romantic indoor and outdoor venues to host your wedding celebration.
Our Spa Lawn is a magnificent lawn with the natural backdrop of the Caribbean Sea. Your guests will enjoy the panoramic views of the Round Hill property and the balmy sea breeze from the Caribbean Sea. The venue is ideal for ceremony and cocktails.

The Georgian Terrace is an indoor space that exhibits indoor and outdoor concepts, giving views of the Caribbean Sea and our rainforest. This space is ideal for dinner and reception.

The Beach is a sandy venue with golden sands, with warm breeze of the Caribbean Sea and spectacular sunsets would be an ideal venue for rehearsal dinners, ceremony & cocktails.

The Infiniti Sun Deck is a shallow cliff with sweeping views of the Caribbean Sea. Your guests will enjoy the panoramic views of the Round Hill property and the balmy sea breeze from the Caribbean Sea. The venue is ideal for ceremony and cocktails.
Do you have a list of preferred vendors?
After confirming your wedding at Round Hill, a list of our approved vendors will be forwarded to you to choose your preference of vendors.
May I hire vendors who are not on the approved list?
Yes, however please note that a vendor's fee of US$400.00 per vendors will apply.
Are there any guidelines or requirements for hiring vendors who are not on the approved list?
Yes, vendors should contact your on-site wedding planner to discuss these guidelines. The vendor should be properly insured and should provide proof of this insurance.
Can I bring down my own wedding décor items and favors?
Yes you may; however, we do not recommend bringing this as there are custom laws that will require you to pay taxes and duties on these items or they might be confiscated if they are deemed commercial goods. The best recommendation is to request your décor items from our preferred vendors.
Do all my guests need to stay at Round Hill?
A minimum 90% of your attending guests should be registered and accommodated at Round Hill. A location fee will be charged to your final bill should less than 90% of your guests are accommodated at Round Hill.
When do I need to advise the resort of the number of guests attending my wedding?
We should be notified of the number of guests attending a function at least 72 working hours prior to the start of the event. This will be considered a guarantee, for which you will be charged, even if fewer guests attend the function.
Can Round Hill organize activities for our stay?
Guests wishing to explore Jamaica can partake in a number of local activities including Canopy Zip Lining, Dolphin Cove, Great House Tours, Waterfall trips, and more. Our concierge is able to arrange tours and excursions for the group.
Is it ok to stay somewhere other than the hotel/resort selected?
We host and organize private events for our registered guests only, due to the size of our property and the required logistics. Therefore, a minimum guarantee of 90% of your attending wedding guests should be accommodated and registered in order for your wedding celebration to be hosted at Round Hill. However, the remaining 10% of guests may stay at neighboring hotels if they choose to.
What is the average food and beverage cost per person at the wedding reception?
Based on our current banquet menus, you may expect to spend on average, $175 per person for dinner, of which are exclusive of ancillary service charge and government tax. This average includes hors d'oeuvres for your cocktails, three-course plated meal, wedding cake and open bar option. Please be aware that our menu items and pricing are subject to change and are guaranteed 90 days in advance. Your final menu pricing will be based on your actual selections.
Is Round Hill able to accommodate persons with special dietary needs?
Round Hill offers a selection of vegetarian, vegan, and gluten free options for any dietary need. Please consult with your wedding planner for more details.
What is the corkage fee?
Should you choose to provide your wines and champagnes for your wedding day event, corkage of US$15.00 per bottle of wine and US$25.00 per bottle of champagne will be charged.
What contingency is there for inclement weather?
We have indoor venues as backup in the event we are experiencing inclement weather. Rain calls are made a minimum of 4 hours prior to the start of your event. The back plan will be would be discussed with you by your wedding planner.
Is there a noise ordinance we should be aware of?
All events held at the Hanover Terrace and Seaside Terrace are required to end at 11:00pm. Events held at the Beach and the Infiniti Sun Deck are required to end at 10:00pm. Events held at villas are required to use only low volume entertainment and are required to end by 10:00pm.
Are there any restrictions we need to know about?
In accordance with Jamaican law, smoking is not allowed in the rooms including balconies, restaurants, bars or public places. If you wish to smoke, we have assigned designated smoking areas throughout the hotel. Floating Lanterns are not allowed at Round Hill as they are a fire hazard. The use of drones is not permitted on property. The restriction of drone usage ensures the privacy of all guests during their stay at Round Hill. Drone usage is only permitted if approved by a senior member of the executive team.